Guestbook
Guestbook
Please remember the CLG Aontroim Guestbook is moderated, and all posts will only be visible after approval from a member of County Executive.
PLEASE NOTE THE GUESTBOOK IS NOT INTENDED FOR NOTICES OF FIXTURES OR RESULTS AND NONE WILL BE POSTED.
---
Division 2 Defenders
12th February 2018
Congratulations to John 'Rocky' Dillon on receiving his award of Ulster Hurler of the Year. Played club season out of place up in the forwards but was outstanding for the County in defence keeping most full forwards scoreless.
---
Admission Prices
8th February 2018
General question: Who sets the admission prices for the National League games? Antrim v Dublin (NHL) last weekend at Corrigan Pk. £14. Antrim v Waterford (NFL) thise week, same venue - £9. Curious as to why there is a £5 difference?
---
Croke Park set the prices. It is out of our control. Division 1 games differ in price from Division 4 games. 
Senior player
7th February 2018
I just noticed that the fixtures are to be out soon - a massive congrats on the Board and those organising it in how efficient they are being and how good the communication has been - really appreciated from a player's point of view! Just wondering if there will be games scheduled for Fridays now - given that there was a strong demand from the players themselves for this. Also, keeping Easter weekend free would be great! Time spend with family during this period would be nice! Just my suggestion before things are drafted.
---
The CCC no doubt will look at your suggestions. 
Needtoknow
5th February 2018
Guys any chance you can release the league fixture dates and championship dates all players and management teams looking to plan holidays etc Only fair they get good notice .
---
The fixtures should be out soon. CCC have been working on them straight after the championship draw. 
Alex Trainor
25th January 2018
Billy Silcock Would just like to say to Billy congratulations on his achievement. Very well deserved to a great Gael.
---
Yes a fantastic achievement and well deserved!
Senior Player
17th January 2018
Can you give me an idea when dates for leagues and championship will be released? Good to see draw for championship is Monday. Thanks
---
the championship draw will be on Tuesday 30th January and the league fixtures will be out ASAP after that. 
Tyrone Eastwood
13th January 2018
Very sad to hear of the passing of John o boyle. John has served the gaa in SW Antrim for many years, to all his family, friends, and fellow gaels deepest sympathies.
---
John  is being waked at his home on the Greenan Road and his remains will be removed at 6.00pm on Sunday to Sacred Heart church Cargin where he will be buried after 11.00am mass on Monday.
He will be sorely missed. Ar dheis Dé go raibh a anam

Player
12th January 2018
When will dates for league/championship will be out wife wants to book a hoilday
---
The championship draw will hopefully be next Monday 22nd providing clubs have their documentation in for Wednesday  17th
Rory
21st November 2017
Thanks for the view of the nominations. Are there any motions or recommendations available to view - particularly any proposed changes to the league structures ?
---
Distribution of Convention Booklets to the clubs will be happening very shortly then the motions & recommendations will be posted.
Rory
19th November 2017
Where are the nominations for county convention available to view? Thanks
---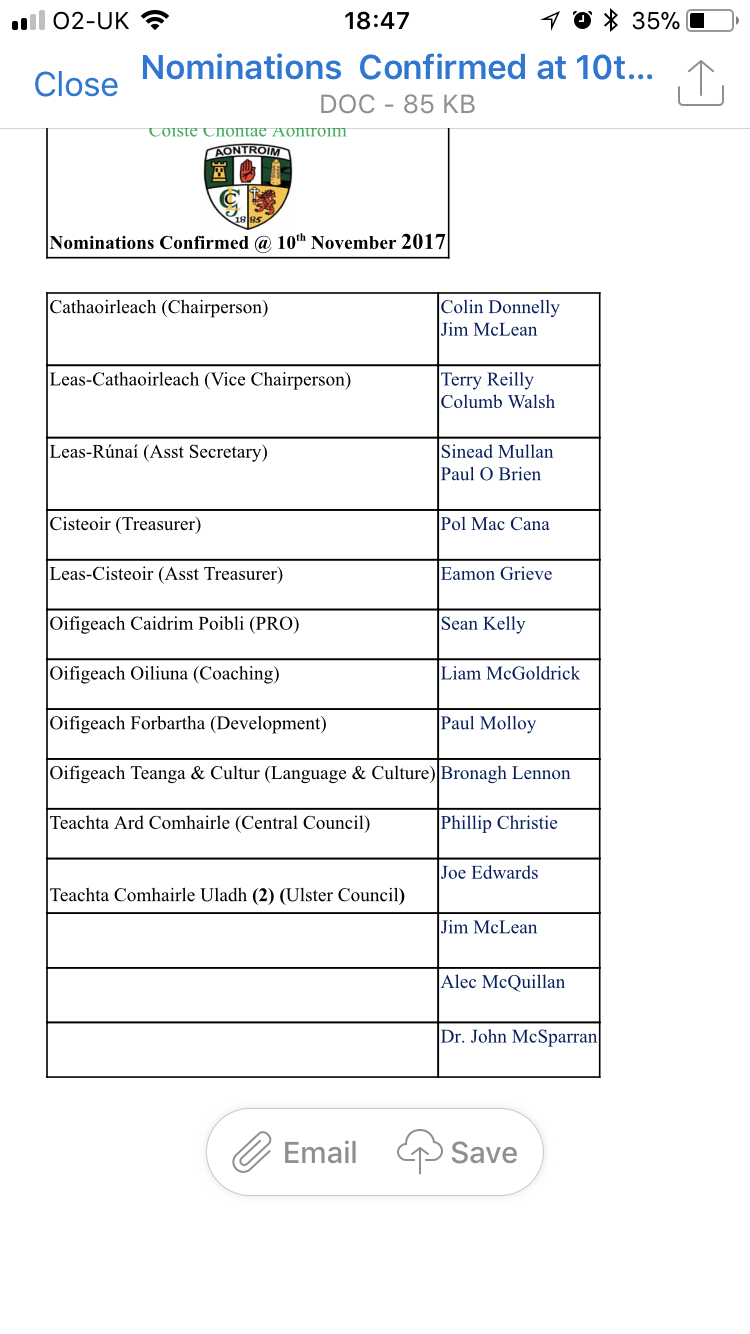 Private Ryan
16th November 2017
Surely Crumlin 4G and Woodlands 4G can host them,if it's good enough for the B grade it should b good enough for the A
---
Due to the unavailability of pitch's the 2 semi finals will be played at Woodlands this Sunday 
u21 Semis
14th November 2017
Why no venues for this weeks semis ?
---
The weather is wreaking havoc with pitches. We will let you know as soon as we know.
Gerry lismore
4th November 2017
Great website
Antrim Secretary
16th October 2017
Any player who wishes to trail for the 2018 Antrim Senior football squad is asked to attend a trial game(s) on Saturday / Sunday 21st and 22nd October at 11am at Dunsilly. Nominations must come via the Club Secretary ( and returned to the Co Secretary by 12noon on Thursday 19th October) and contain the following information  Players name  Preferred position  Sat / Sunday trial Note Members of the 2017 Antrim Senior football championship panel are not required to attend
Deko
10th October 2017
What's the draw for the graded round of u21 championship ?
---
The U21 championship will be redrawn this week and published as soon as it has been made.